Battletech


By Ray Snyder

Battletech is currently made up of three games, A Time of War (a Roleplaying Game), Alpha Strike (The Miniatures Rules} and Battletech (the Board game), plus many Video Games and Novels. This universe is basically Game of Thrones in space with Giant Mechs(giant robot/tanks}. While everyone knows Warhammer or Magic, Battletech was there first and has grown dramatically from its 1985 box set. The Battletech universe I remember from my youth was a living thing, it progressed, starting in the year 3025, as I played both the past and the future were developed, Allowing players to use long lost Star League Era tech or explore the new Technologies of the mysterious new enemy, The Clans. The Clans turned out to be the descendants of the old Star League Military that left known space as the Star League government was falling to Corruption and Feudal Loyalties. It was a neat turn of events to see the fictional universe I was discovering grow and change, and see the different plotlines grow. The Clans believe they are returning to establish a new star league for everyone's betterment, while the different house of the Inner Sphere believe they are the stewards of ancient cultures and the defenders of known space. I stopped playing Battletech as the clan Invasion was slowing down and the Inner Sphere where developing ways to fight them, by then the year had moved from 3025 to 3058.
I lost interest in the game as I focused more on college and over the years since I have played many of the video games that have been released for the Battletech Universe. Recently I've noticed a group of my friends had started playing a weekly game of Battletech and then I found out about the new Alpha Strike Rules set and started to rediscover this great universe all over again, but much to my surprise over a hundred years of game time had past, the current year was 3132, over hundred years from when I started the game. I have just begun exploring the new era, and how the universe changed during it. However all the old eras are still fully supported with the year 3039 being the starting point for new players, but now you can delve deep into the past and play battle at the birth of the Star League, using the ancestors of the modern mechs.
Battletech is currently available in three different tabletop games. A Time of War is the Battletech RPG and can work as a full miniature free RPG or as a addition to Total Warfare the Classic Battletech game. Total Warfare is the game released first in 1985 and while it has has tons of development, Total Warfare still has the core rules from that old box set. Total Warfare Focuses on the Detailed result of a small number of Mechs battling and allows for player to easily modify or construct Mech of their own. The Customization of Battletech is one of the main attractions to the game as is the hundreds of published Mech designs. Alpha Strike is the Mass Combat rules for Battletech, allowing large numbers of Mech and other fighting units to battle it out on terrain covered tabletops as opposed to the hex maps "Battletech Total Warfare" uses. Currently I'm Exploring Alpha Strike as it's both a Newer rules set that is a vast streamlining of Classic Battletech, but also allows faster gameplay while still maintaining the feel of Classic Battletech's core game play. I've only started using the Alpha Strike Rules, but they impress me greatly and the gameplay is Fun.
Player ownership is one of the big draws to the Battletech universe as they can design or modify their Mechs and Vehicles, Create characters or Military units, and use all those in Roleplaying or tabletop campaigns. Players are encouraged to create their own units and use them to tell stories in a why most tabletop wargames don't. The Vast History of the game universe is also a huge strength of the game, with Dozens of Novels, Source books, and even a Cartoon, Battletech is has a rich background to draw from and a multitude of different story hooks and characters.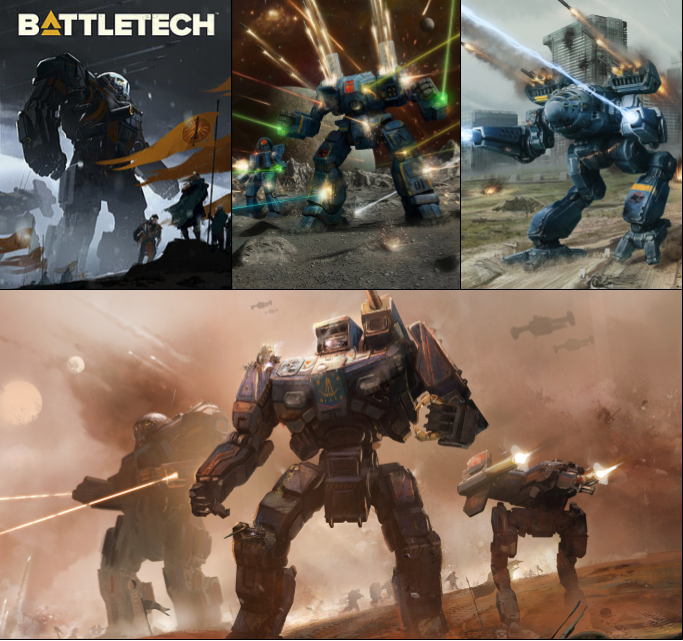 The Game play rewards maneuvering your army of Mech carefully, as the combat each turn is simultaneous, so maneuvering so all your units can attack, but not all of your opponent's mechs can is a big advantage. Additionally some Mech can be very hard to hit, due to high speed movement or being behind some cover or forests, making the battlefield very important and giving the light fast Mech a strong defensive boost.  Additionally Mech generate Heat and can overheat for disastrous effects if not managed properly. A Mech would take damage and have components get destroyed by critical hits, once a Mech's armor was breached. Finally Each Weapon system worked best at different ranges and situations, so trying to maximize your Mech's attacks also brings some challenge.
Here are some links to new player PDFs for the Battletech Universe.
An overview of the Game and it's history.
http://d15yciz5bluc83.cloudfront.net/wp … pdf?x64300
Quick Start Rules for Alpha Strike
http://d15yciz5bluc83.cloudfront.net/wp … pdf?x64300
Quick Start Rules for Classic Battletech
http://d15yciz5bluc83.cloudfront.net/wp … pdf?x64300
Quick Start Rules for A Time of War
http://bg.battletech.com/download/QSR_A … pdf?x64300
The Universe Guide
http://www.battletech.com/wp-content/up … uide-1.pdf
Fiction Sampler of six short stories.
http://www.battletech.com/wp-content/up … ampler.pdf